Machine Learning Researchers Win Big Data Grants
The National Science Foundation, with support from the National Institutes of Health, has awarded two grants totaling more than $1.7 million to Carnegie Mellon researchers to support new Big Data research projects.
Christos Faloutsos, a professor in the Machine Learning Department, received an $894,892 award to develop theory and algorithms to tackle the complexity of language processing, and to develop methods that approximate how the human brain works in processing language. Faloutsos' co-principal investigator is Tom Mitchell, head of the Machine Learning Department. They will collaborate with Nikos Sidiropoulos and George Karypis of the University of Minnesota.
Aarti Singh, assistant professor in Machine Learning, was awarded $820,000 to develop new statistical and algorithmic machine learning approaches that would benefit the fields of physics, psychology, economics, epidemiology, medicine, and social network analysis. Singh's co-PIs are Timothy Verstynen, assistant professor of psychology in the Center for the Neural Basis of Cognition, and Barnabas Poczos, an assistant professor of machine learning
The awards were among eight Big Data fundamental research projects, totaling $15 million, developed in response to the federal Big Data Initiative announced last spring.
"I am delighted to provide such a positive progress report just six months after fellow federal agency heads joined the White House in launching the Big Data Initiative," said NSF Director Subra Suresh. "By funding the fundamental research to enable new types of collaborations--multi-disciplinary teams and communities--and with the start of an exciting competition, today we are realizing plans to advance the foundational science and engineering of Big Data, fortifying U.S. competitiveness for decades to come."

Contact:
Byron Spice
412-268-9068
bspice@cs.cmu.edu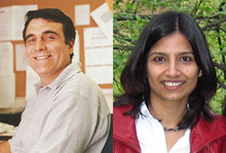 Christos Faloutsos (left) and Aarti Singh
About Carnegie Mellon:
Carnegie Mellon is a private research university with a distinctive mix of programs in engineering, computer science, robotics, business, public policy, fine arts and the humanities. More than 10,000 undergraduate and graduate students receive an education characterized by its focus on creating and implementing solutions for real problems, interdisciplinary collaboration, and innovation. A small student-to-faculty ratio provides an opportunity for close interaction between students and professors. While technology is pervasive on its 144-acre Pittsburgh campus, Carnegie Mellon is also distinctive among leading research universities for the world-renowned programs in its College of Fine Arts. A global university, Carnegie Mellon has campuses in Silicon Valley, Calif., and Qatar, and programs in Asia, Australia and Europe. For more, see
www.cmu.edu
.